Vibration in the Workplace
(Mae'r tudalennau hyn yn Saesneg yn unig ar hyn o bryd, yn bennaf oherwydd eu natur dechnegol)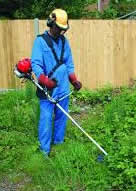 Hand-Arm Vibration Syndrome (HAVs) is a condition that has the potential to affect any worker who uses powered hand-held or hand-guided tools as a major part of their job.  Workers whose hands are regularly exposed to high vibration may suffer from a number of ill health effects to the hands and arm. This could include impaired blood circulation and damage to the nerves and muscles which may be felt as a tingling or numbness in the fingers.
There are also other names for the condition, including 'vibration white finger', 'dead finger' and secondary Raynaud's Syndrome.
The primary cause of HAVS is work involving holding vibrating tools or work pieces. The risk depends on the magnitude of the vibration and how long an individual is exposed to it. Other aspects that can have an affect are the grip, push and other forces used to guide and apply vibrating tools or work pieces, the pattern of exposure, how much of the hand is exposed to the vibration, temperature, smoking habits and individual susceptibility.

As such, Health and Safety produced a new Control of Vibration in the Workplace Policy Standard to ensure the health and safety of those staff who could be affected. The Policy Standard formalises existing arrangements and primarily applies to Campus Services and science based Colleges whose staff routinely operate vibrating tools and equipment as part of their work.
Please contact Health and Safety if having read the above information you still have any concerns or queries regarding vibration in the workplace.