Spotlight On... Stephen Prydderch
Where are you from?
I went to Castell Alun High School in Hope, and lived in the nearby village of Caergwrle until I completed my A-levels.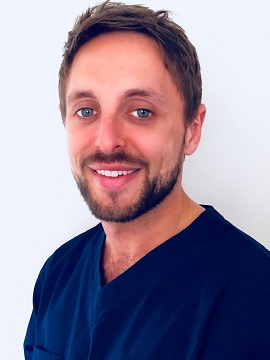 After leaving high school, I moved to Birmingham, where I worked for a company who supported prisoners to prepare for work. At about the age of 20, I left work and went back to college to redo my A-levels.
When did you qualify as a nurse?
Initially I wanted to study dentistry, but after one particular experience of being a patient in hospital, I was completely inspired. I remember very clearly the contrast in care delivered by one nurse. It was this nurse's attention to compassion, and their exemplary ability to care for me, which completely changed my direction of thought.
I very proudly started my journey as an adult nursing student in 2006, where I studied at the School of Nursing, Bangor University, in Wrexham. These were some of the best years of my life.
What was your experience of being a student nurse?
They all inspired and invested something in me, which has helped me to get to where I am today. The University lectures helped me to gain a greater sense of self-belief, and to work harder. Whilst much has changed since I was a nursing student, I still believe the staff at Bangor University invest a huge amount of support into students, and I am certainly trying to mirror my colleagues, by ensuring I can continue to deliver this.
Were there many other male students when you were studying?
I shared my first year with mental health and learning disability nursing students. We were taught together for the entire first year, so there were several other male students in the class. But when year two arrived and we split into our fields of nursing, this left only me in my adult nursing cohort.
Why do you think the gap between male and female nurses is so wide?
Whilst nursing remains a female dominated workforce, and whilst some continue to associate nursing as 'women's work', male nurses as gay, or we continue to use female associated titles such as sister or matron, it will remain a challenge to break down the misconceptions and stereotypes which thwart some men from considering the profession. My own observations of men in nursing do not reflect public stereotypes, and I certainly consider the technical and complex work of nurses to be gender irrelevant.
At a time where image rightly or wrongly holds huge influence over teens, the need to 'break down' negative perceptions and inaccurate stereotypes has never been so vitally important. I personally feel it is time to embrace gender-neutral titles, such as "charge nurse", and as someone who is passionate about 'up-stream' interventions, I feel we need to see much more emphasis on primary schools, providing a positive and accurate message regarding the role and image of the modern-day nurse. I believe it is time to replace Action Man dolls with male nurse action figures, and it is certainly time we included boys nursing outfits in the dressing-up box.
Tell us about your experiences as a qualified nurse.
I will never forget receiving the phone call, offering me my first job as a community nurse. This was a real achievement for me, given there was some resistance to accept newly qualified nurses into the community. Nevertheless, I spent many happy years as a community nurse, before going on to achieve a range of qualifications, including my MSc, and deciding to specialise as a specialist community public health nurse. My career has been extremely fulfilling, and I have been very lucky to have followed my passion and interest in primary care. I have met some wonderful people, both patients and colleagues, and I am privileged to be in a position to share so much of my experiences with students as a lecturer.
It is due to my passion for community and primary care nursing that I was recently nominated by students and colleagues to be considered for the title of Queen's Nurse. I am delighted to say I have been awarded this title and will officially be presented with the title of Queen's Nurse at the award ceremony in June. I would like to thank everyone who supported me, and I look forward to seeing some of our current student nurses go on to become Queen's Nurses themselves during their careers.
What has life taught you so far?
I think it is important to develop a greater sense of self-belief and self-esteem. I sometimes see students who lack this, in the same way I did when I was a nursing student. But I am always keen to try and support students to realise the positive impact developing self-belief can have. I believe that you get back what you put in.
What do you do to relax?
I try wherever possible to live the 'Hygge' way of life, which is the Danish way to 'live well'. Denmark is considered to be the worlds happiest country, and by adopting just a few small rules, this has had a positive impact on my home-life.
Sundays, coffee and cake, fireplaces, the smell of home-baked sourdough, walking "the girls" (Millie and Molly), bee keeping and music, all contribute to my idea of 'hyggelig', relaxed living.
What advice would you give to male student nurses?
If someone invests in you, grab it and run with it, and try hard to embrace and develop a greater sense of self-belief. It will be the fuel for your own success.
If you are interested in reading more about Danish living, Stephen recommends: Wiking, M. (2016) The Little Book of HYGEE: The Danish Way to Live Well. Penguin