STEP 4: TRAVEL HEALTH ESSENTIALS
Novel coronavirus (Covid-19): Advice for all overseas travellers
Vaccinations / Medication
Always check you have the correct vaccinations and medications (e.g. malaria prophylaxis) before travel.
Please Note: Health and Safety Services does not provide treatments. Staff and students must contact their GP (or alternative provider) for advice about vaccinations and prophylaxis.
The NHS Fit for Travel Website (link and advice on how to use below) lists what vaccinations and prophylaxis, are advised as a minimum when travelling to individual countries. Staff and students travelling overseas on University related business are strongly advised to arrange vaccinations / prophylaxis as per the Fit for Travel recommendations.
Be mindful that some vaccinations and prophylaxis (e.g. malaria tablets) need to be administered a set time before departure or even in doses several weeks apart.
When travelling always carry your International Certificate of Vaccination or Prophylaxis (ICVP) with you as proof you have the correct vaccinations (as with your passport keep a copy).
Charges may be made dependent on the treatment being given. Staff and students should speak to their College / School / Department to establish what costs will be reimbursed.
Other Health Considerations
As well as the day to day health considerations we all think about when travelling overseas, for example sun burn, some of us will need to be mindful of pre-existing medical conditions which may require some thought as to how the condition will be managed once overseas. Further information on both of these aspects can be found in the links below.
Travelling with Medication
Please be aware there may be restrictions and even prohibitions with regards to what medication you can take overseas. For example, opiate based drugs such as codeine are banned in some countries. In addition, in some cases you will need a GP's Letter confirming why you require medication. The NHS offers some information here. Also, see Pre-Existing Health Considerations below for details.
Links
Using Fit for Travel
Select what country e.g. Liberia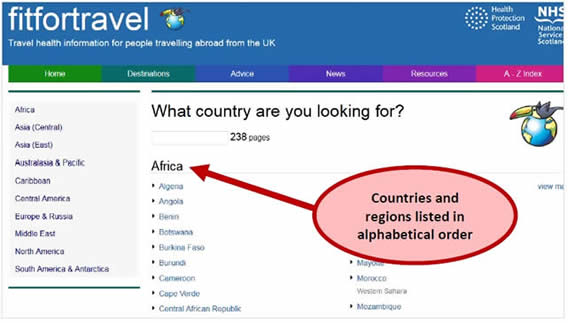 Select 'Immunisations' (2nd bullet point)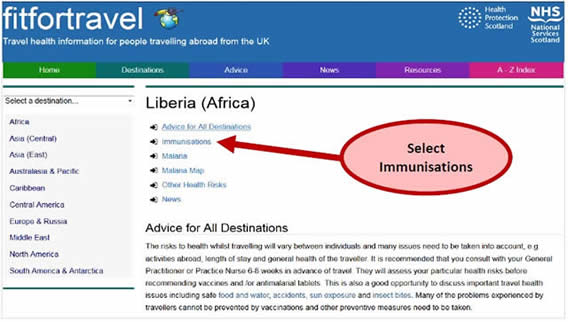 Refer to 'Courses or boosters usually advised'. Consider 'Other vaccines' with your GP