Office Workplace Temperature
Some like it hot!
So much of our time is spent at work that it is important we feel comfortable when we are there, and this doesn't just mean having an adjustable chair or somewhere to get a drink. Being too hot or too cold whilst at work can not only make the day feel very long but can also be very tiring.
The Workplace Health and Safety Welfare Regulations cover workplace temperature and states: 'workrooms should normally be at least 16 degrees Celsius unless much of the work involves severe physical effort in which case the temperature, should be at least 13 degrees Celsius'. However, they then go on to say: 'these temperatures may not, ensure reasonable comfort, depending on other factors such as air movement and relative humidity.'
Everybody is different, some of us feel the cold and some of us don't and with the majority of us sharing offices it can be very difficult to get the temperature just right to suit everyone.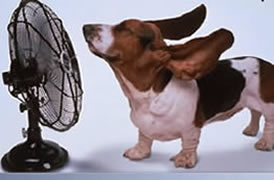 HSE guidance refers to workplace temperature as 'Thermal Comfort' which they themselves admit is very difficult to define. To ensure people are comfortable involves the consideration of a range of environmental and personal factors with a thermal environment that satisfies the majority (80%) of people in the workplace the best that realistically can be achieved.
The University also experiences problems as many of its buildings are old so have no air conditioning or temperamental heating systems leading to us all either shivering with cold or 'glowing' in the heat, but even though there may be limitations with regards to mechanical solutions we can all take some action to help ourselves:
Improving your Thermal Comfort
Add or remove layers of clothing depending on how hot or cold you are.
Wear suitable fabrics e.g. cotton in hot weather and a woolly jumper in winter.
Use window blinds (if available) to cut down on the heating effects of the sun.
Use a desk or pedestal fan to increase air movement.
Use heaters to warm up in the winter - however always remember to turn them off.
Open windows to increase ventilation if you are too hot.
If you are too warm drink plenty of water and if you are too cold have a warm drink.
If all the above fail? Contact Property and Campus Services to see if there is any action they can take e.g. unseal painted up windows.