Thought for the Week
Bangor University's 'multi-faith' Chaplaincy Team members offer here reflections that are sourced in their own particular faith, but which we hope will be accessible to a wider audience. In giving these there is no intention to persuade the listener to follow the religion of the author.
Each week a different member of the Team will offer their 'Thought for the Week' in either video, audio or written format - This week - How to Renew your Well-being (John Thompson, Baptist member of The Chaplaincy Team).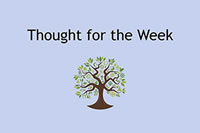 Past 'Thought for the Week'
Anglican
September 2020 - Places of encounter - Nathan Jarvis - Written Format
Assemblies Of God
March 2022 - Faith, Hope and Strength - Dr Tanya Herring - Written Format
November 2021 - When approaching decision-points, what should we do? Seek good counsel - Dr Tanya Herring - Written Format
April 2021 - Your path in life - Dr Tanya Herring - Written Format
November 2020 - Stay engaged during uncertain times - Dr Tanya Herring - Written Format
June 2020 - Caring: Caring for ourselves... caring for others - Dr Tanya Herring - Written Format
Baptist
February 2022 - Following the Underdog - Rev John Thompson - Written Format
April 2021 - Peace and Balance modelled by Jesus - Rev John Thompson
November 2020 - Putting the Peace of Christmas into the whole year - Rev John Thompson
Buddhism
January 2022 - The True Nature of our Emotions - Pati Bielak-Smith - Written format
March 2021 - Open Communication - Pati Bielak-Smith - Written format
November 2020 - Sun behind the clouds - Pati Bielak-Smith
June 2020 - Impermanence - Pati Bielak-Smith - Written Format
Catholic
April 2022 - Empathy - Ray Bayliss - Written Format
December 2021 - The Advent Wreath - Ray Bayliss - Written Format
August 2021 - A Sign of Contradiction - Ray Bayliss - Written Format
February 2021 - Running Away or Turning Towards - Ray Bayliss - Written Format
October 2020 - Community - Ray Bayliss
June 2020 - Living in a Pentecost Moment - Ray Bayliss
Eastern Orthodox Church
March 2022 - The Holy Archimandrite Grigol Peradze, Martyr of Auschwitz - Very Revd Father Deiniol - Written Format
November 2021 - The Therapeutic Community of Penrhys - Very Revd Father Deiniol - Written Format
June 2021 - The Therapeutic Community of Edessa - Very Revd Father Deiniol - Written Format
January 2021 - Peter the Church Chanter - Very Revd Father Deiniol - Written Format
August 2020 - The brave Russian 'babushki - Very Revd Father Deiniol - Written Format
Hindu
February 2022 - A problem shared is a problem halved - Dr Sibani Roy
June 2021 - On Mental Health Issues - Dr Sibani Roy - Written Format
December 2020 - Together we will live not only survive - Dr Sibani Roy - Written Format
July 2020 - We are here to help you to keep safe - Dr Sibani Roy - Written Format
Judaism
March 2022 - A Modern Mordecai: Volodymyr Zelenskyy and Purim - Prof Nathan Abrams - Written Format
July 2021 - Pinchas - Prof Nathan Abrams - Written Format
February 2021 - Yitro - Prof Nathan Abrams - Written Format
August 2020 - Ki Teitzei - Prof Nathan Abrams -Written Format
Methodist
May 2022 - Mental Health Awareness Week - Nick Sissons
February 2022 - Seeing the Light - Nick Sissons
October 2021 - Back to the future - Nick Sissons
April 2021 - Take some 'me' time - Rev John Hughes
January 2021 - New Year's Resolutions - Rev John Hughes
July 2020 - Never judge a book by its cover - Rev John Hughes
Society of Friends
April 2022 - Becoming Truly Human - Jani Evans
January 2022 - Meeting together in stillness - Jani Evans
October 2021 - Living Adventurously - Jani Eans
February 2021 - Reaching out for support - Jani Evans
August 2020 - Appreciating one another - Jani Evans
Welsh Evangelical
May 2021 - The Line of Duty - Dafydd Job - Written Format
December 2020 - Are you ready for Christmas - Dafydd Job - Written Format
July 2020 - God and suffering - Dafydd Job - Written Format