Coronavirus and the Chaplaincy
Churches and Faith Spaces may be closed for the time being, but we are still here for staff and students of the University of all faiths and none.
Like so much of the University's provision, Bangor University's Chaplaincy Team, which is affiliated to and works with Student Services, has had to adapt to the current situation and move its presence online to be available to staff and students of the University. It's taken a while to make the adjustment, but all now have access to university email and we are (with the exception, due to technical problems, of our Orthodox Chaplain) available for people to contact, chat and video chat, via Microsoft Teams. All members of the Team are available to staff and students for pastoral support or advice on an individual basis.
Thought for the Week
Bangor University's 'multi-faith' Chaplaincy Team members offer here reflections that are sourced in their own particular faith, but which we hope will be accessible to a wider audience. In giving these there is no intention to persuade the listener to follow the religion of the author.
Each week a different member of the Team will offer their 'Thought for the Week' in either video, audio or written format.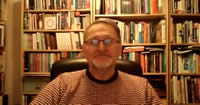 Past 'Thought for the Week' reflections are available here