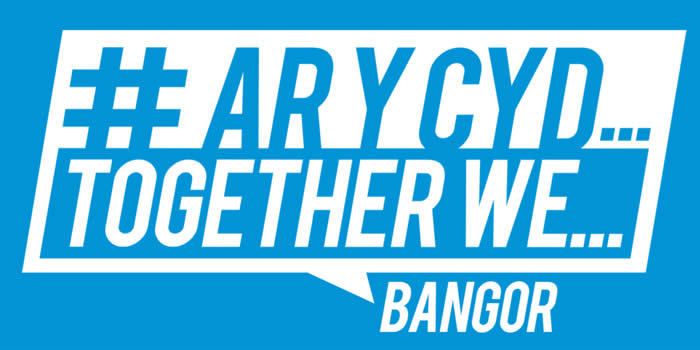 Together We
When students and staff work together we make Bangor University brilliant. During your time studying with us you'll get loads of chances to tell us what you think, through surveys, your Students' Union's Course Rep system, and chatting with your lecturers. Together We is all about the changes made in response to your feedback – so find out more, and get involved.
Follow us on...
Instagram: TogetherBangor
Twitter: @togetherBangor
Student Services is committed to continually developing its services in response to your feedback. Listed below are some recent examples of how we have enhanced our services in response to student and staff feedback.
Access Centre
Waiting times for a Study Needs Report from the Access Centre were too long.

Cut appointment waiting times by 50% (from 23 to 11 working days) and the time taken to receive a Study Needs Report by 30% (from 10 to 7 working days).

It was difficult to find somewhere that sold Coloured Overlays

We made them available via our online shop
Disability Service
More flexibility in offering 1:1 specialist study skills support outside of standard 9–5 hours for students on placement.

'Out of hours' service offered on a Wednesday evening to 7pm.

Help with maths and statistics.

Dedicated SpLD Maths Tutor available full-time throughout the year.

Provision of same day sessions.

Drop-in service introduced every day 12–1 during term time including Maths Support and support through the medium of Welsh.

Share information with Academic Schools on inclusive and accessible formats / design of coursework assignments and forms.

The Disability Service is actively engaged in developing inclusive teaching across Bangor University. Inclusive learning and teaching is at the top of the Agenda of Disability Services as changes to the Disabled Students' Allowance come into force.

You wanted shorter waiting times.

Offer drop in sessions in the SU run by our Mental Health Advisers

Staff requested training in mental health awareness.

Our Mental Health Advisers are now accredited Mental Health First Aid trainers and offer a rolling programme of staff training across the university with excellent feedback
Counselling Service
You asked for more help with on dealing with topics such as panic, suicide and self-harm, anger, relationship problems and assertiveness.
We will be focussing on these topics in our building resilience workshops, emotional regulation skills classes and iCan workshops.
You asked for greater provision of one to one counselling through the medium of Welsh.
We have appointed another 1st language Welsh part time counsellor
Students on placements asked for appointments outside normal working hours.
We now open on Tuesday evenings.
You asked for shorter waiting times.
We have been given additional staff and operate a 'triage' system. This has reduced waiting times and ensured that those most in need are seen quickly.
Students abroad or on placements away from Bangor asked for additional sources of help.
We have invested in on line software packages for anxiety and depression, and have a small lending library, all purchased with funds donated by the Alumni fund.
You have asked for more groups and workshops.
This year we have run a comprehensive workshop programme, and a Mindfulness Based Stress Reduction course.
Staff have asked for more advice in how they can support students.
We offer same day consultations via our duty counsellor system, and have been involved in delivering a mental health training programme to staff across the University.
BEA
A student approached the Bangor Employability Award Team to ask if the Wales University Officer Training Corps (WUOTC) activities could be recognised by the BEA.

The BEA team liaised with the student and visited the barracks on training evening to gain an understanding of what being a member of WUOTC entails and added the activities to the BEA scheme.
Peer Guides
The Peer Guide surveys showed Halls students wanted more time to get to know flatmates in Welcome Week and those not living in Halls asked for more Peer Guide contact.

We met with the Halls Office and agreed an evening in Welcome Week for Halls based events which gives the opportunity for Peer Guides to concentrate on those students not living in Halls.