Chaplaincy and Faith Provision
Welcome to Bangor University's Chaplaincy and Faith Provision pages
Bangor University's Chaplaincy Team, is affiliated to and works with Student Services to be available to staff and students of the University. Team members are available for people to contact, chat and video chat, via Microsoft Teams. All members of the Team are available to staff and students for pastoral support or advice on an individual basis.
We hope you enjoy this little video - 'Chaplaincy Team - The Movie' as an introduction to the Team and what we do.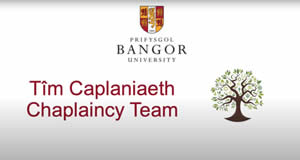 Definitions of Chaplain and Chaplaincy
Chaplain
A Chaplain is someone appointed by a religious body to work in a particular field or institution (and recognised/approved by that institution) to provide pastoral care, spiritual help and religious support to its members, and to provide advice in matters of faith where appropriate to the institution and its members.
Chaplaincy
The service provided by a Chaplain, or a Chaplaincy Team, to address the pastoral, religious and spiritual needs of the institution and its members. This may include activities specific to the faith group to which the Chaplain belongs, but is available to all, regardless of their faith or non-belief.
OR
The location that Chaplains, or a Chaplaincy Team, work from - which may also provide prayer, worship or social space.
Feedback
We welcome your feedback. If you have any feedback, please contact the following: