Bangor Awards Catherine Peer Guide of the Year 2017
Bangor University Peer Guides have been congratulated and awarded certificates in thanks for the vital role they have been playing in supporting their fellow students.
Bangor University runs one of the oldest and largest 'Peer Guiding Schemes' in any UK university. The trained 'Peer Guides' play a vital role in assisting new students to settle in to university life, helping with everything from the practicalities of moving in and finding their way around university, to assisting in supporting students in adapting to university life and signposting them to further information and support when necessary.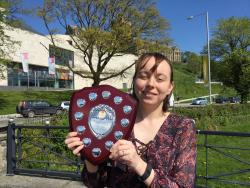 Catherine Rhian Suddaby - Peer Guide of the Year Thanking the Peer Guides, Kim Davies, Peer Guide Co-ordinator at Student Support Services, said:
"The Peer Guides' commitment and contribution made to Bangor University life is invaluable. Not only do the Peer Guides organise and run events through Welcome Week, they are on hand to assist new students in adjusting to University life. They can make a difference between a student deciding to stay or leave during the first few weeks away from home. The also make new and lifelong friendships with their students."
While all the Peer Guides were thanked for their work in supporting their fellow students, one student received the annual Peer Guide of the Year Award.
All first year students are asked whether they wish to nominate a student 'who has gone the extra mile' in their support of their fellow students.
This year's winning student was Catherine Rhian Suddaby, a third year Social Science student.
Student Collette McDowell who nominated her for the Award said:
"Catherine deserves recognition from the university for everything she has done not only during induction days and welcome week but the amount of support and guidance she has given me since."
"This has personally been a very tough year for me with things that have happened and my health deteriorating but I have always had Catherine in my corner, going above and beyond to help and make me smile."
"From the bottom of my heart I personally want to thank Catherine for everything she has done for me and the amount of time she has invested in me, she has certainly made my first year less stressful."
Catherine who is 24 and comes from Penmon near Beaumaris on Anglesey, said:
"I was inspired to become a Peer Guide after the excellent support I received in my first year, I would have been lost and left out without Vicky as my Peer Guide."
Catherine's advice to new students:
"Make the most of your Peer Guide, they are there to support you and help you settle in to university life."
On receiving her Peer Guide of the Year Award:
"I feel both humbled and flattered to have won Peer Guide of the Year and consider it a great privilege."
Publication date: 8 May 2017