Dry January 2016
The Welsh Government is working with Alcohol Concern again this year to promote the Dry January challenge to go for 31 days without alcohol. As Christmas and the New Year are fast approaching, December is the ideal time to think ahead and consider the Dry January challenge which more and more people are taking up every year!
Dry January is aimed at all of us who consider ourselves normal social drinkers. It's not about getting anyone to stop drinking for ever more – it's about us having a pause for thought, and maybe getting out of some drinking routines we've got into. It's about waking up with a clear head every day for a month, probably saving some money, and possibly losing some weight. Above all, it's about taking control of our drinking and our health.

Getting involved couldn't be easier. Anyone can sign up online in English or Welsh at www.dryjanuary.org.uk. People can also follow the conversation, and share encouragement and ideas for things to do instead of drinking @DryJanuary (or @IonawrSych for Welsh language tweets) and on Facebook.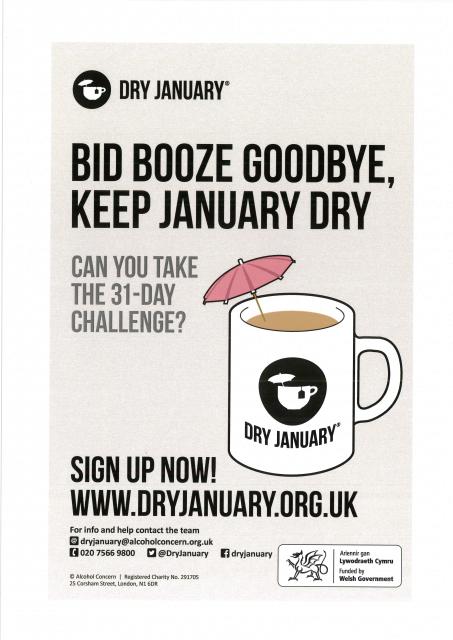 Publication date: 21 December 2015