Manchester Graduate Recruitment Fair
In your final year or completing a Masters course? Looking for graduate jobs, work placements or networking opportunities?
The Careers & Employability Service at Bangor University is organising a coach to the Manchester Graduate Recruitment Fair 2018 on 9th May 2018. Manchester University is holding one of the largest graduate recruitment Fairs in the UK, with around 130 exhibitors offering thousands of opportunities.
To register for the event and see the full list of exhibitors please visit http://www.careers.manchester.ac.uk/events/gradfair/
Entry to the fair is free. Tickets for the coach are £10 per person and can be purchased through the Online Shop here: https://bit.ly/2GUKRu9
Places are very limited and will be allocated on a first come, first serve basis.
If you have any further questions please contact the Careers & Employability Service on 01248 382071 or email careers@bangor.ac.uk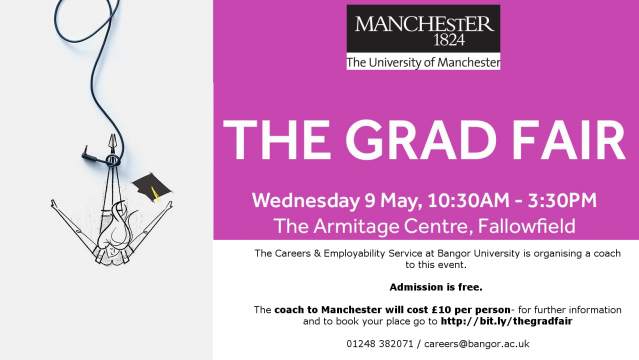 Publication date: 27 April 2018