Succeed with your studies
The Study Skills Centre aims to support students throughout the process of transition to and progression through the university by raising awareness of academic expectations and by helping students to develop the strategies and processes that will enable them to get the most out of their studies.
Click here to browse the study support available to you, whether you are studying at Bangor, at Wrexham campus, or whether you are studying at a distance. Here is an overview of the support:
Individual appointments, where you can discuss your writing, your study approaches, and work through maths and statistics problems;
Study skills workshops on Wednesday afternoons, which are open to all students across all disciplines and levels of study;
Online study resources, where you can explore key aspects of academic study in your own time.
We have developed an interactive resource designed to help students to avoid plagiarising source material, and this and other resources can be accessed from our website. Our maths and stats appointments resume full activity from September 29th.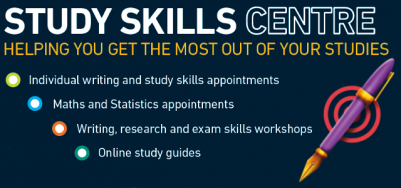 Publication date: 28 September 2020