The Student Housing Office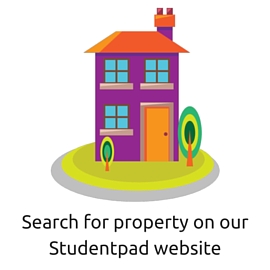 Looking for a house? Look no further!
Studentpad
The Student Housing Office deals with privately rented accommodation. Visit our Studentpad website where you can search our database for your ideal property to rent - new properties added daily!
You can also download our Student Guide to Private Accommodation, which is designed to help you when looking for your first house in the private rented sector, pointing out the things to look out for and your rights as a tenant. You are welcome to use the many student guides and checklists which can be found here (e.g. House-Hunting Checklist; Self-Help on Tenancy Agreements; Moving-In Checklist; Moving-Out Checklist; Students In The Community Guide).
Take your Time to Sign! (Undeb Bangor Campaign)
Students based outside of Bangor – e.g. at Wrexham
You are of course welcome to access the same support (e.g. contract guidance etc) from the Bangor Student Housing Office as detailed above – you may find it easier to contact us by telephone/email/Microsoft Teams.
You are welcome to use the many student guides and checklists which can be found here.
Glyndŵr University have kindly agreed that our Wrexham-based students can look at their private accommodation listings, which can be found here. If you require contact details for the Wrexham Council Housing Standards Team, please contact the Bangor Student Housing Office on studenthousing@bangor.ac.uk
Where to find us...
You can find the Student Housing Office on the first floor of Neuadd Rathbone, College Road, Bangor, LL57 2DF.
We are open daily Monday to Friday between 9 am and 4.30 pm.
We welcome your feedback
We would welcome your feedback about the service received, to enable us to develop and provide the best possible service now and in the future.
Please contact one of the following with your comments:
Welcome to Bangor's student vlogs!
Here, our students will tell you all about their housing experiences in Bangor, with tips and insights into how to find the best house!
Advice from 3rd years
For advice from those in-the-know, listen to George and Jamie
Choosing Housemates
For tips on choosing housemates, listen to Dani.
Don't rush!
Listen to Jenny for advice on taking your time.
Heating and Landlord advice
Advice from Tref.
Studentpad, Tips and Landlord advice
For reasons to use Studentpad, and for tips on finance and the benefits of using local landlords, listen to Lauren (in Welsh).