The Student Housing Office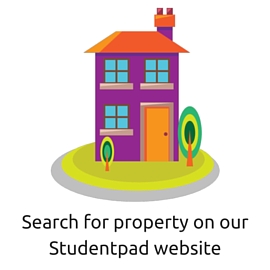 Looking for a house? Look no further!
Studentpad
The Student Housing Office deals with privately rented accommodation. Visit our Studentpad website where you can search our database for your ideal property to rent - new properties added daily!
You can also access Housing Advice and Useful Links via the website, which includes lots of helpful information.
Housing for the next academic year
The University's Student Housing Office will be working with the Students' Union on the annual housing campaign in October/November to give you all the information you need about house hunting. So look out for us!
Get ready to rent - Your house hunting guide
Take your Time to Sign! (Undeb Bangor Campaign 2022)
Housing FAQs for international students
International students' housing guide: www.bangorstudentpad.co.uk/help
Landlord Awards
Find out about the Students' Union Landlord Awards:
* Nomination season 2023 (nominations close on the 28th of February 2023)
Students with Families
Information for students with families can be found here:
www.bangor.ac.uk/students-with-families
www.bangor.ac.uk/international/support/families (International Student Support)
Homeshare
Homeshare enables two people to share a home for mutual benefit. Typically, an older person living in their own home with a room to spare will be carefully matched with a younger person who will provide an agreed amount of support in exchange for good quality, affordable accommodation.
To learn about the project itself visit: Gwynedd Homeshare .
To learn about Homeshare Gwynedd contact Richard, the co-ordinator, by emailing: homeshare@gwynedd.llyw.cymru
International students should seek advice on their visa from the International Student Support Office before considering taking part.
Students based outside of Bangor
If you wish to contact the Bangor Student Housing Office, you may find it easier to contact us by telephone/email/Microsoft Teams.

You can also access

Housing Advice

and

Useful Links

via the website,

which includes lots of helpful information.
If you are looking for accommodation outside of the Bangor area, you can contact letting agencies in the relevant areas, to find listings of available accommodation. Shelter has some useful information on how to find a place to rent privately and what to consider when thinking about where to rent:
Local areas outside of Bangor
Wrexham
Chester
Where to find us...
You can find the Student Housing Office on the first floor of Neuadd Rathbone, College Road, Bangor, LL57 2DF.
We are open daily Monday to Friday between 9 am and 4.30 pm.
We welcome your feedback
We would welcome your feedback about the service received, to enable us to develop and provide the best possible service now and in the future.
Please contact one of the following with your comments: